Adult brain prunes branched connections of new neurons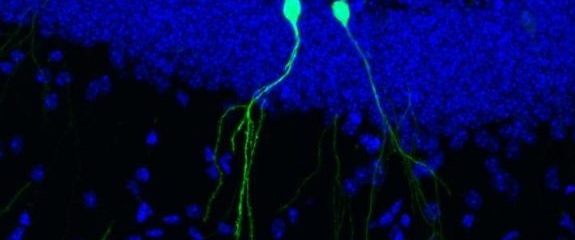 New brain cells began with a period of overgrowth, sending out a plethora of neuronal branches, before the brain pruned back the connections. The observation, described May 2, 2016 in Nature Neuroscience, suggests that new cells in the adult brain have more in common with those in the embryonic brain than scientists previously thought and could have implications for understanding diseases including autism, intellectual disabilities and schizophrenia.
"We were surprised by the extent of the pruning we saw," says senior author Rusty Gage, a professor in Salk's Laboratory of Genetics and holder of the Vi and John Adler Chair for Research on Age-Related Neurodegenerative Disease.
While most of the brain's billions of cells are formed before birth, Gage and others previously showed that in a few select areas of the mammalian brain, stem cells develop into new neurons during adulthood. In the new study, Gage's group focused on cells in the dentate gyrus, an area deep in the brain thought to be responsible for the formation of new memories. The scientists used a new microscopy technique to observe new cells being formed in the dentate gyrus of adult mice.
"This is the first time we've been able to image dentate neurons growing in a living animal," says Tiago Gonçalves, a research associate in the Gage lab and first author of the new paper.