Association for Human Pharmacology in the Pharmaceutical Industry - oldest and best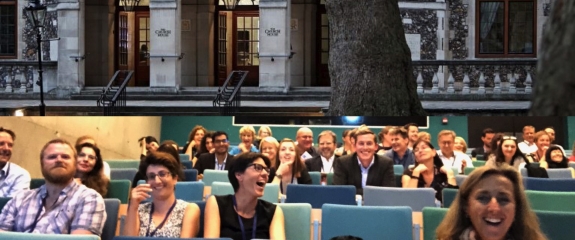 The procedings of the Association for Human Pharmacology in the Pharmaceutical Industry (AHPPI) annual meeting held earlier this year have been published in the journal Frontiers in Pharmacology today.
This exciting event was particularly poignant as it marked the 30th birthday of the oldest not-for-profit professional association involved in early phase drug development in the world. Founded in 1988, the AHPPI provides a forum for continuing education in clinical pharmacology and in the regulatory aspects of early development of new medicines. The theme of the meeting focused on the changing face of early phase drug development and opened with a keynote speech concerning the revolution in pharmaceutical medicine over the last 30 years and the impact this has had on the way patients are treated. 
Examples were presented of how translational pharmaceutics is being used to tackle the high drug candidate failure rate and is improving productivity when moving drug candidates from the laboratory through to clinical proof of concept. The European Medicines Agency revised 2007 Risk Mitigation guideline on first in human clinical trials was discussed. The focus of the revised guideline, which came into force in February 2018, is on risk mitigation and promotion of safety and will assist drug sponsors with the design and performance of early clinical studies. The use of integrated adaptive protocol designs in early clinical development was discussed in relation to the challenges involved when running early phase clinical trials in patients. The Health Regulatory Authority presented its strategies to ensure that following Brexit, the United Kingdom remains an attractive place to conduct Phase I clinical trials. The Medicines and Healthcare products Regulatory Agency confirmed that in the event of a "no deal" Brexit, it is well placed to implement and influence many provisions of the new European Clinical Trials Regulation.
The meeting provided an opportunity to discuss the changing regulatory environment and the opportunities and challenges facing the United Kingdom following Brexit with invited speakers from a range of disciplines including drug development, clinical trials and research organizations, government science policy and regulatory agencies. In closing the meeting, the AHPPI Chairman, Dr. Tim Hardman, summarized how the topics discussed showed that the pharmaceutical industry is working together to ensure the United Kingdom continues to be an attractive location to conduct Phase I clinical trials.