Fluorescent Nanoparticle Tracks Cancer Treatment's Effectiveness in Hours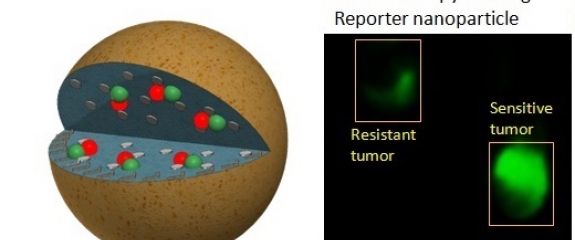 Bioengineers at Brigham and Women's Hospital have developed a new technique to help determine if chemotherapy is working in as few as eight hours after treatment. The new approach, which can also be used for monitoring the effectiveness of immunotherapy, has shown success in pre-clinical models.
The technology utilizes a nanoparticle, carrying anti-cancer drugs, that glows green when cancer cells begin dying. Researchers, using  the "reporter nanoparticles" that responds to a particular enzyme known as caspase, which is activated when cells die, were able to distinguish between a tumor that is drug-sensitive or drug-resistant much faster than conventional detection methods such as PET scans, CT and MRI. The findings were published online March 28 in the Proceedings of the National Academy of Sciences.
"Using this approach, the cells light up the moment a cancer drug starts working," co-corresponding author Shiladitya Sengupta, Ph.D., principal investigator in BWH's Division of Bioengineering, said in a prepared statement. "We can determine if a cancer therapy is effective within hours of treatment. Our long-term goal is to find a way to monitor outcomes very early so that we don't give a chemotherapy drug to patients who are not responding to it."