Inside our Insider's Insights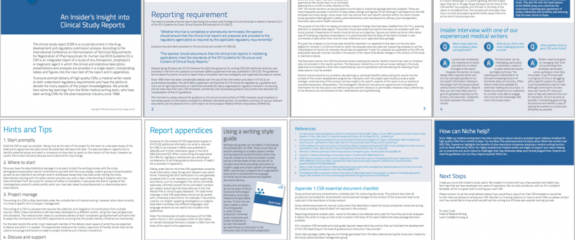 Have we mentioned that we love to share? Since 2013 we have been sharing our understanding on key issues with friends and clients via our Insider's Insights. Previous editions have covered subjects ranging from clinical study design to designing professional posters. This knowledge has been distilled from our 18 years working in the industry.
We recently decided that it would be a great to make all of our Insider's Insights available in one place (here). Now you have a one-stop shop that provides free access to the full Niche library. You can also register to receive new issues as they are published - and tell us what topics you would like us to cover in the future.
This month we are re-releasing an old favourite – our Insider's Insight on clinical study report writing. Among other things, this updated issue provides references to changes in guidelines and information from professional writing bodies. Our Head of Medical Writing, Dr Justin Cook, who has over 18 years of medical writing experience, wrote the guide. Justin has been responsible for training his team on how to write first class clinical study reports for over 10 years.
We hope you will find this document valuable and keep it for future reference. More issues are in the pipeline - including articles on making killer slide presentations, avoiding plagiarism and navigating the EU Clinical Trial Application process. Don't miss out – register today.