Mapping non-adherence and airway inflammation in managing severe asthma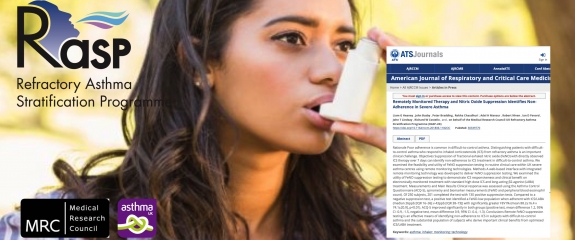 Given the high cost and side-effect potential of new biologic treatments for asthma, the need exists to establish a protocol that identifies specific criteria, including adherence behaviour, to selectively target those patients who stand to benefit from biologic treatment. This has been one of the many goals of the MRC-funded RASP-UK consortium for the last 3 years.
In the recent RASP-UK Annual Consortium Meeting, attendees heard about the findings of an aspect of the programme focused on assessing the impact of non-adherence to therapy in patients with severe asthma that had been published [1]. Poor adherence is common in difficult-to-control asthma, making the identification of patients with difficult-to-control asthma who respond to inhaled corticosteroids from refractory asthma clinically challenging.
It has been proposed that suppression of fractional exhaled nitric oxide (FeNO) with directly observed corticosteroid therapy over 7 days can identify those patients failing to adhere to corticosteroid treatment. The RASP team examined the feasibility and utility of FeNO suppression testing in routine clinical care within its UK severe asthma centres using remote monitoring technologies.
Web-based recording coupled with integrated remote monitoring technology has been developed to deliver FeNO suppression testing. As part of our on-going programme we looked at the clinical value of testing and its ability to demonstrate steroid responsiveness and clinical benefit.
The study effectively demonstrated that monitoring FeNO suppression remotely is an effective means of identifying non-adherence to inhaled corticosteroids in subjects with difficult-to-control asthma and the substantial number of patients likely to derive important clinical benefits from optimised inhaled asthma therapy.
The findings have already received an enthusiastic reception in the literature [2]. Recent review applauds the progress towards developing a clinically helpful, standardized protocol for evaluating adherence and inflammation control that can differentiate those patients who should be placed on a biologic medication from those whose inadequate symptom control may be due to non-adherence to standard of care inhaled therapy. Clearly, RASP-UK represents a well-managed and successful consortium promising exciting and clinically relevant findings as it moves into its delivery phase.
[1] Heaney LG, Busby J, Bradding P, et al. Remotely Monitored Therapy and Nitric Oxide Suppression Identifies Non-Adherence in Severe Asthma. American Journal of Respiratory and Critical Care Medicine [online ahead of print] 19 Oct 2018; www.atsjournals.org/doi/abs/10.1164/rccm.201806-1182oc
[2] Bender B. Sorting out nonadherence and airway inflammation in treatment escalation for severe asthma.  AJRCCM Articles in Press. Published on 13-December-2018 as 10.1164/rccm.201811-2144ED
Niche Science & Technology Ltd are partners in the MRC-funded RASP-UK programme involved in consortium management and clinical oversight.