MicroRNA toxicology testing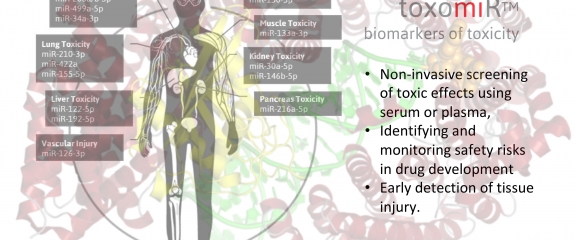 Environmental epigenetic studies have revealed the role of miRNAs in the regulation of gene activities induced by environmental changes after exposure to toxic substances. Toxicant-induced changes in miRNA expression have a potential to be informative markers in the evaluation of toxicant risks. miRNAs are now considered to be predictive biomarkers or indicators of tissue injury due to toxicant exposure; thus, miRNAs can also be utilised as therapeutic targets.
The new toxo miRTM testing service from TAmiRNA allows clients to ship serum or plasma samples straight to the lab for toxicology analysis using the toxomiR microRNA panel. Consisting of 24 toxicology biomarkers and assay controls the process enables parallel, non-invasive monitoring of toxic effects on eight organs as well as detection of endocrine disrupting activity. With rapis turn around times the service can accept unlimited numbers of samples and delivers results with data normalization, statistical analysis and a full report with associated documentation.
The toxomiR™ microRNA panel is based on the repeated observations by various scientific groups that toxicant-induced changes in the transcription and secretion of toxomiRs are highly sensitive to toxic effects occurring in the liver, kidney, brain, heart, muscle, lung, pancreas, vascular injury, and due to endocrine disruption. It is now possible to analyze toxomiRs in a 200 µL serum or plasma sample to obtain a fast and uncomplicated insight into the nature of their samples in the context of toxic injury in different organs.
The toxomiRTM service is intended for translational and clinical research as a support for bulk toxicity testing of multiple samples and tissues. It allows client organizations to take advantage of TAmiRNA´s highly capable and advanced laboratory environment to achieve highest data quality. Data analysis is based on TAmiRNA´s data normalization pipeline, which ensures excellent data comparability, even across multiple centers.