Nanoparticles beat back atherosclerosis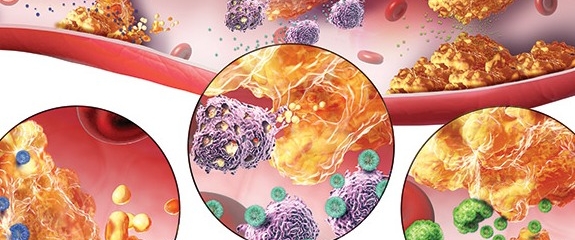 Careening through the bloodstream, a single nanoparticle is dwarfed by red blood cells whizzing by that are 100 times larger. But when specially designed nanoparticles bump into an atherosclerotic plaque – a fatty clog narrowing a blood vessel – the tiny particles can play an outsized role. They can cling to the plaque and begin to break it down, clearing the path for those big blood cells to flow more easily and calming the angry inflammation in the vicinity.
By finding and busting apart plaques in the arteries, nanoparticles may offer a new, non-surgical way to reduce a patient's risk for heart attack and stroke.
Nanoparticles measure less than 100 nanometers across – a thousandth the thickness of a dollar bill. Despite being tiny, they can be engineered to haul a mix of molecules – such as tags that make them stick to a plaque, drugs that block inflammation or dyes that let scientists track their movements. Over the last two decades, scientists have exploited these strategies to fight cancer, designing nanoparticles that deliver drugs (SN Online: 1/3/14) or dyes for imaging deep into the core of a tumor. The U.S. Food and Drug Administration has approved a few dozen cancer-focused nanomedicines.