OsteomiR™ and ThrombomiR™ testing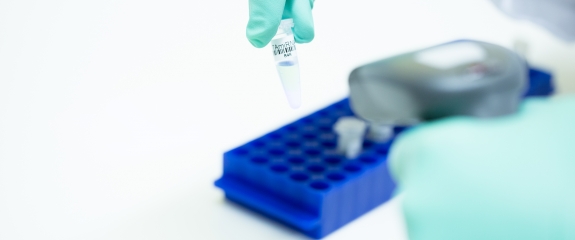 The biopharmaceutical R&D company
TAmiRNA
, founded to drive the discovery and development of microRNAs (miRNAs) as tools for diagnosis has introduced a new sample testing service that allows customers without specific equipment to take advantage of the laboratory's powerful new RNA RUO osteomiR™ and thrombomiR™ technologies. The osteomiR™ and thrombomiR
TM
microRNA qPCR research testing technologies provide faster and more accurate ways of analyzing bone quality and platelet function
in vivo
, using standardized analysis of circulating plasma and serum microRNAs. This novel service allows customers from academia and industry to gain a fast and uncomplicated insight into the nature of their samples in the context of osteoporosis and platelet function. Customers can take advantage of TAmiRNA´s analytical capacities and high quality standards for rapid turnaround of high quality data.
The osteomiR and thrombomiR sample testing service allows customers to ship their samples to the TAmiRNA service lab for analysis using its microRNA RUO test kits osteomiR and/or thrombomiR, taking advantage of TAmiRNA´s quality-controlled laboratory environment to achieve highest data quality and rapid turnaround times. There is no minimum or maximum sample requirement: this service can be performed for any numbers of samples. Analysis requires only 225 µL per serum or plasma sample. The service includes:
RNA isolation from biofluids (serum/plasma)
Quality control of total RNA
cDNA synthesis
qPCR using either osteomiR or thrombomiRs plates
Data normalization, analysis and result report
Optional enrichment for exosomes or microvesicles are also available. the service involves quality control of all samples is included with excellent data quality ensured, because samples are handled by the very TAmiRNA scientists, who originally developed the kits. Now academic and clinical research groups have access to fast and uncomplicated insight into the nature of their samples, receiving high quality data, ready for presentation, publication and further analysis.
The osteomiR™ technology originated from an academic research project in the lab of Prof. Dr. Johannes Grillari at the Department of Biotechnology, University of Natural Resources and Life Sciences Vienna, while thrombomiR™ was developed from an original academic research project in the lab of Dr. Manuel Mayr at the King´s British Heart Foundation Centre, King´s College London, UK. The kits are based on a simple technology platform and are particularly useful for clinical research groups and pharmaceutical companies that are active in bone quality and platelet function research.
The osteomiRTM kit provides a novel tool to analyze novel biomarker candidates for the prediction of fracture risk in postmenopausal women and can solve the problem of identifying patients in need of preventive therapy for bone fractures. The test is designed to provide a valuable complement to clinical parameters such as FRAXTM or bone mineral density, improving its test performances significantly.
The thrombomiR™ kit is based in the miRNA expression profiles within platelets which reflects platelet function that is independent of any specific activation pathway. Platelets play a key role in hemostasis, initiating and propagating thrombosis. Dysregulation and inappropriate activation of platelets occurs in a wide range of serious age-associated diseases, including stroke and myocardial infraction. Precise knowledge of the platelet status of a patient is also critical in clinical decision making, since impairment of platelet functions can result in bleeding disorders and additional risk during surgery.