EUFEMED announces new President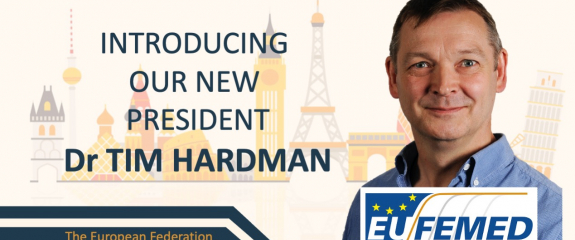 The European Federation for Exploratory Medicines Development (EUFEMED) announces the election of its new President to serve for the period July 2021 – July 2023.
Dr Tim Hardman, current Chair of the UK's Association for Human Pharmacology in the Pharmaceutical Industry (AHPPI) becomes the new EUFEMED president. Having served as Chair at AHPPI since 2018, Dr Hardman is a post-doctoral scientist with knowledge of a broad range of scientific disciplines and a thorough understanding of the process of drug development.
He started Niche Science and Technology Ltd in 1998 and now manages a multi-disciplinary team performing specialist contract research organisation services for pharmaceutical and academic organisations.
Heading up the Niche team, Dr Hardman was responsible for the successful deliver of a number of EU FP7- and UK MRC-funded projects (MID-Frail, Frailomics and RASP-UK) and was also responsible for one of the first successful Innovation Licensing and Access Pathway (ILAP) passports awarded by the UK's MHRA. With a keen interest in developing young scientists, Dr Hardman was one of the founder partners who established the UK's Trailblazer Clinical Trials Specialist apprenticeship and during the pandemic he has been involved in researching how it will change working practice and training.