iOnctura's MHRA Innovation Passport award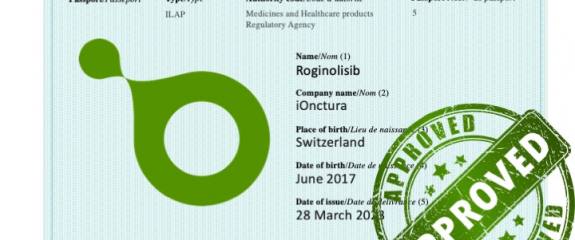 iOnctura awarded UK's MHRA Innovation Passport for entry into the Innovative Licensing and Access Pathway (ILAP).
Roginolisib is a first-in-class, non-ATP-competitive, allosteric modulator of PI3Kd that prevents tumour proliferation and breaks immune tolerance in patients with solid and haematological tumours. 
Inhibition of PI3Kδ in solid tumours is a potential approach to treating cancer, targeting multiple tumour survival pathways. First-generation PI3Kδ inhibitors are used against haematological tumours, but safety concerns and limited target selectivity have limited their clinical utility. The concerns are higher in solid malignancies, where patients experience rapid onset of toxicity. In contrast, the toxicity profile of roginolisib appears more favourable, with <5% Grade 3/4 toxicities at the biologically effective doses. Promisingly, the toxicities reported have to-date been transient in nature without need for dose reductions. 
Clinical activity, including partial and complete responses, has been reported with both solid and hematologic malignancies. Further details on clinical responses will be released at a future international clinical conference in 2023. Fourteen of 43 patients (including 12 of 28 uveal melanoma patients) are still on treatment, with two patients having been on treatment for more than 2 years. Current estimates for 1-year survival rates are around 70%. 
Recent findings (here) suggest that roginolisib inhibits regulatory T cell proliferation while having limited anti-proliferative effects on conventional CD4+ T cells and no effect on CD8+ T cells; both immune cell types are key to a robust immune response to tumours. 
Catherine Pickering, Chief Executive Officer of iOnctura, said: "The Innovation Passport is an exciting step in the clinical development programme for roginolisib, a drug with a game-changing clinical safety and activity profile. Being awarded this passport will allow us to work closely with the MHRA and its partner agencies to chart out a roadmap for regulatory and key development milestones with the primary goal of achieving early patient access to roginolisib." 
Dr Tim Hardman, Managing Director at Niche Science & Technology Ltd, UK noted, "ILAP is a truly exciting development with the potential for major benefits for patients, the NHS and the life sciences industry." He went on to add his thanks to iOnctura for recognising Niche's contribution. He noted that since being part of the team to win the third ever ILAP (sadly beaten to first place by a Nobel laurate and a major pharma company) this was now their fifth successful ILAP submission.  He said, "We are delighted to have been able to help iOnctura achieve passport approval."
About ILAP
The Innovation Passport is the entry point to ILAP, which aims to accelerate time to market and thereby patient access to novel treatments in the UK. Reserved for innovative therapies for life-threatening or seriously debilitating conditions, ILAP provides applicants with a toolkit to support all stages of the design, development, and approval process. It triggers the MHRA and its partner agencies to chart a roadmap for regulatory and development milestones with the goal of early patient access in the UK. Other benefits of ILAP include access to range of development tools, such as the potential for a 150-day accelerated Marketing Authorisation Application assessment, rolling review and a continuous benefit-risk assessment.
About iOnctura
Founded in June 2017, iOnctura is a clinical stage biotechnology company developing breakthrough therapies for patients suffering with cancer. iOnctura's mission is to uncover keys to unlocking difficult to treat tumours burdened by stroma- and immune-mediated resistance. They do this by simultaneously targeting multiple tumour survival mechanisms with a single drug, disrupting the dynamic interplay at the heart of the tumour-stroma-immune interface.
About Niche Science & Technology Ltd
Founded in 1998, Niche Science & Technology Ltd provides a comprehensive range of clinical research services to a growing number of pharmaceutical clients. Specialising in regulatory support and clinical project management, its mission is the successful progress of client assets through all phases of clinical development.